Living Through Your Kitchen Remodel
Life during a kitchen remodel can be challenging
Take away the stove and the oven, then the kitchen sink, and cooking can become a challenge. Preparation can significantly ease the restrictions of a hectic remodel. Here are some ideas for creating a makeshift kitchen, having the right tools on hand and stocking your pantry to make your remodel run as smoothly as possible.
Idea #1: Create a Temporary Kitchen
Before walls are torn down and appliances removed, find an area of your house such as the basement, dining room or even the garage where you can set up a temporary kitchen. A folding table suffices as a countertop, providing room for secondary appliances that make homemade meals a reality. Situate a toaster oven, coffee maker, crock-pot, microwave or even an electric single burner and you'll have some limited kitchen functionality.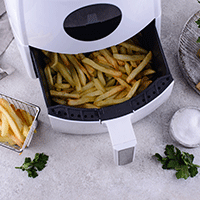 Idea #2: Gather the Right Cooking Tools
When working in a provisional kitchen, less is definitely more. In a plastic storage bin, set aside the cooking utensils and cookware that you'll need — those that are compatible with the microwave, toaster oven, etc. Another small bin should keep essentials like aluminum foil, plastic wrap, garbage bags and sandwich bags handy, while everything else goes into storage.
Accept that you will have to wash dishes at some point and determine how you will handle this. Locating the temporary kitchen near a laundry tub or bathroom sink will save valuable time.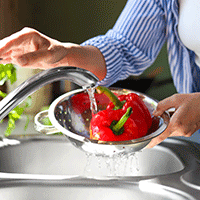 Idea #3: Stock Up on Ready-to-Eat Foods
Take time to inventory your pantry and stock up on dry and canned goods such as cereals, canned and dry soups, canned fruit and vegetables, etc. Things like crackers, nuts, peanut butter, raisins, string cheese and fruit make for quick snacks; while prepared foods including heat-and-serve entrées, the salad bar or a rotisserie chicken can be found in your grocer's deli. Consider creating freeze-and-heat meals and make use of your crock-pot for meals like pot roast and chili. Finally, acknowledge that packing a lunch may be difficult during a renovation so consider allowing yourself - and your kids - the luxury of buying lunch.