Innovative Cabinet Organization
A place for everything and everything in its place
It's our celebrated line of innovative cabinets with organization solutions that shelves clutter and places kitchen organization front and center. Right where it should be. Mid Continent's cabinet organization system puts organized living within reach, transforming your home from a state of confusion into a well-run operation. A uniquely planned space where there's a place for everything and everything is in its place.
Visit our cabinet organization gallery to view options.
Award-winning Designs
Mid Continent Cabinetry's innovative cabinets give you more reasons to trust the brand that pioneered the cabinet organization category. The flagship of organization is charting new ground with the SuperCabinet V.2. Just another example of how Mid Continent is continually thinking – and rethinking – about your storage needs.
View Super Cabinet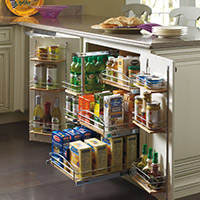 Beyond the Kitchen
Mid Continent's organization gene doesn't stop in the kitchen. Any one of our award-winning designs can be used in an entry area, laundry room, den or office to coral clutter throughout the home. Mid Continent also features numerous innovative ideas for the bathroom, such as our U-shaped vanity pullout.
View Vanity Mirror Cabinet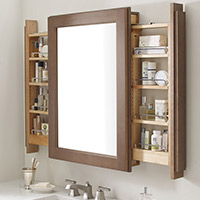 Building Blocks of Organization
The organizational strength of a cabinet rests on a variety of important qualities.
Accessibility: designed to put things you need within each reach
Visibility: designed to put items front and center, easy to see
Capacity: unique system makes better use of space, so you can put more inside
Flexibility: allows you to move shelves and racks to suit your changing needs
View Pull Down Shelf